[

]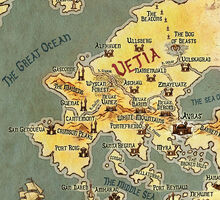 Vetia is one of the continents of the world. [1]
Geography
[
]
In the Ninth Age, Vetia is home to several nations. Among them are: [1] [2] [3]
History
[
]
Vetia was in ancient times home to the Avrasi Empire. [4]
In the Sixth Age, most of Vetia was conquered by the vermin [4] [5] [2]. They ruled it until the end of the Eighth Age, after which the continent has been mostly controlled by mankind [4] [2] [6].
Sources
[
]